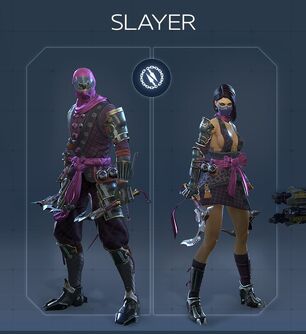 Description

[

]
Role:

Damage
Appearing out of thin air and disappearing just as quickly, a slayer can slip by undetected while leaving a trail of bodies in their wake. Their primary weapons are a pair of razor-sharp swords, but they possess other cards up their sleeves that can assist them in killing opponents or retreating if a fight gets too intense.
Weapons

[

]
Twin Swords
[
]
The Slayer dual-wields a pair of Twin Swords. Gameplay wise, they are regarded as one item that is fitted in the main weapon slot.
Shurikens
[
]
In the additional weapon slot the Slayer carries his Shurikens.
Abilities and Talents

[

]
Gallery

[

]
Videos

[

]