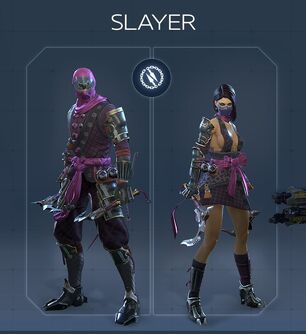 Description

Edit
Role:

Damage
Appearing out of thin air and disappearing just as quickly, a slayer can slip by undetected while leaving a trail of bodies in their wake. Their primary weapons are a pair of razor-sharp swords, but they possess other cards up their sleeves that can assist them in killing opponents or retreating if a fight gets too intense.
Twin Swords
Edit
The Slayer dual-wields a pair of Twin Swords. Gameplay wise, they are regarded as one item that is fitted in the main weapon slot.
Shurikens
Edit
In the additional weapon slot the Slayer carries his Shurikens.
Abilities and Talents

Edit
Community content is available under
CC-BY-SA
unless otherwise noted.