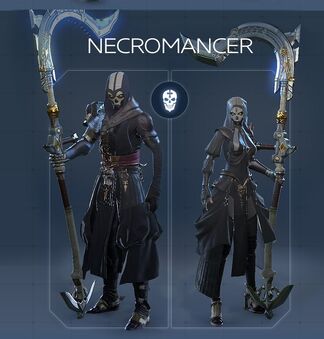 Description

[

]
Role:

Damage
A necromancer is a powerful sorcerer and master of death. Using dreadful spells, they're able to raise and summon horrifying undead creatures and use spells to deal damage at the sacrifice of life. They can even transform themselves into a powerful lich, gaining access to new necrotic abilities, that restore their health by syphoning it from their enemies.
Lich form transform mechanic
Lich form will automatically activate if the Necromancer were to die from an attack or health sacrifice. The cooldown on this mechanic is shown as a debuff that will start at 30 seconds and count down. Casting Lich form manually will trigger this debuff. While this debuff is active, the necromancer cannot manually transform either, but having it happen will not put manual Lich form on its 45 second cooldown. If the necromancer has zero Lich charge when he would die and the debuff is not on him, Lich form will occur with a 5 second duration. While in Lich form, the necromancer cannot die. If the debuff is not on the necromancer, the necromancer cannot be executed in PvP.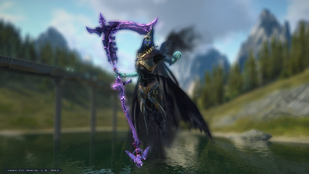 Lich transformation time
The duration of Lich form is equal to 5 seconds base + 1 second per 20% charge.
0 Charge = 5 Seconds
50 Charge = 7.5 Seconds
100 Charge = 10 Seconds
Weapons

[

]
Scythe
[
]
The Necromancer's main weapon is the two handed Scythe.
Artifact
[
]
In the additional weapon slot the Necromancer has an Artifact.
Abilities & Talents

[

]
Gallery

[

]
Videos

[

]