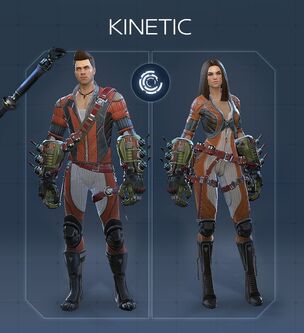 Description

[

]
Role:

Damage
A kinetic is able to manipulate energy thanks to their special gauntlets, enabling them to hurtle projectiles at enemies, surround allies in gravitational shields and control their movement on the battlefield by altering the gravitational fields around them.
The kinetic class focuses on burst damage, and is split primarily into two different play styles including Sledgehammer: a melee ability only accessible during PvP and the other is based on Stone Spear, a ranged ability only accessible during PvE.
Weapons

[

]
Kinetic Gloves
[
]
The Kinetic's main weapon are the Kinetic Gloves.
Reactor Core
[
]
The Kinetic's additional weapon is the Reactor Core.

Together they serve as a conduit and amplify the Kinetic's energy levels and gravitational control capabilities.
Abilities and Talents

[

]
Gallery
[
]
Gallery

[

]
Videos

[

]