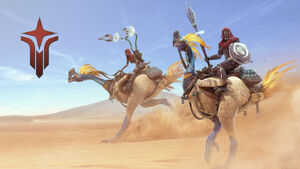 Collector's Editions of Skyforge are currently available, replacing Founder Pack . There are two editions. The Standard Edition and Wardens of the Wasteland. 
Standard Edition ($14.99 US)
6000 bonus Argents
Aelion Defender title and portal badge
Premium account for 30 days
Starter Capsule that includes
Warden of the Wastelands ($59.99 US)
"Across the eastern part of Aelion stretches the endless Wasteland. It's a sparsely populated and extremely dangerous area. Devoid of divine light and protection, the Wasteland became home to renegades, cultists and stray remnants of invasions. The only bulwark of order in the place is the brotherhood of Wardens of the Wasteland. Their cavalry consists of Moah riders, battle Alchemists protected by heavily armed Knights. They are mobile warriors that deliver rapid and deadly attacks with their spears. Become a Warden of the Wasteland!"
Access to the Knight and Alchemist classes

(this only unlocks them for early use, this does not unlock them on the Upper Ascension Map)

Exclusive Night Squad costumes in three color variants
Moah permament mount
Warden of the Wasteland title and portal badge
20k bonus Argents
Premium account for 60 days (will extend current Premium if any)
150,000 Credits (in game currency)
1000 Spark Replicators
24 bag slots
Set of Legendary starter weapons (higher profeciency than the Founder set)
35000 Celestial Threads