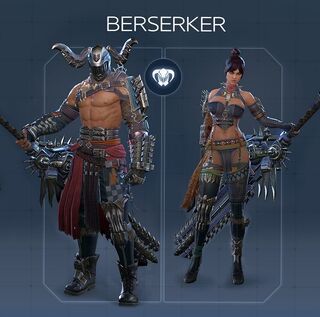 Description

[

]
Role:

Damage
Fueled by rage, a berserker can easily sweep aside hordes of enemies in their path with their fiery chainblade. During heated battles, they're capable of mending some of their wounds while striking terror into the hearts of nearby foes and inspiring allies.
Weapons

[

]
Chainsword
[
]
The Chainsword is the main weapon of the Berserker.
Jagged Chain
[
]
Via the additional weapon slot the Berserker can fit a Jagged Chain to his chainsword.
Abilities and Talents

[

]
Gallery

[

]
Videos

[

]