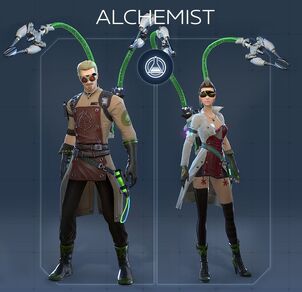 Description

[

]
Role:

Support
Being an alchemist means being a half-mad scientists with access to an arsenal of corrosive chemical compounds and invigorating elixirs. Equipped with a portable alchemy laboratory, they can spray acid and fire at enemies and inflict significant damage with their bladed claws.
Weapons

[

]
Manipulators
[
]
The Alchemist uses a pair of mechanical, tentacle-like tools called Manipulators. They are fitted on a backpack.
Extractor
[
]
The additional weapon for an Alchemist is the Extractor.
Abilities and Talents

[

]
Gallery

[

]
Videos

[

]